Videofact: Brest Residents With Children March Along City
5
8:42 11.02.2019 — Society
The rallies against the battery factory acquire a new format.
On February 10, traditional Sunday feeding of pigeons was held to protest against the construction of a battery factory near the city of Brest. According to human rights activist Uladzimir Vialichkin, about 200 people joined it, the Brest newspaper reports.
For the first time in a year of protest, after feeding the pigeons, the people did not go home, but walked down Pushkin and Savietskaya streets to the Belarus cinema, where they listened to a street musician for a while. Then, at the request of the audience, he put on a cover of the song "To Live", which is considered to be the anthem of the protest movement.
We remind that on March 4, 2018, the feeding of pigeons in protest against the construction of the plant took place in Brest for the first time.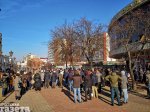 Since then, such silent event takes place at Lenin Square every Sunday. At various times, from 20 to over 250 people were joining it.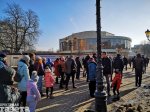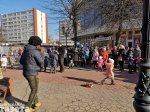 Despite numerous requests to hold rallies, pickets and demonstrations, Brest residents and residents of the district were allowed to gather and protest only once – at the rally "Brest Women Against Lead," which was held in the park of soldiers-internationalists on April 29 and gathered about 2,000 people.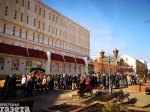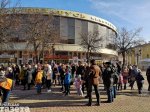 The weekly events of feeding pigeons are held under the watchful attention of the police. Repeatedly their participants have been detained and brought to administrative responsibility. The riot police have interfered in the rallies as well.