New People with Suspected Coronavirus in Homel
11:54 26.03.2020 — Society
Medical professionals in protective outwear took several people away.
A young girl, a resident of Homel, returned from France last week. They swabbed her at the border and sent her home. Yesterday, March 24, the girl was taken with suspected coronavirus. Doctors disinfected her entrance. An announcement was placed on the door.
"Aliens! We got so much adrenaline!"
One of the residents told Radio Svaboda about yesterday's events.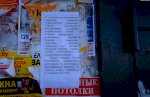 "We knew that our neighbour had been taken away. We were waiting for the medical staff to disinfect the entrance. But when we saw them, my God! Aliens! We had an adrenaline rush. They worked fast, carefully - all the doors, windows, elevator, the platform were disinfected. On our initiative, before the pandemic, we disinfected everything," says the woman.
At present, her apartment smells with chlorine. The woman is treating the place on her own. She says that a young neighbour went to France and returned last Wednesday.
"We keep in touch, but we asked her mother for her daughter not to drop into us; we have small children. The girl's mother said she understood. We didn't see the girl, but we know that yesterday she was taken away," said the woman.
In the morning of March 25, according to her, an ambulance arrived to take the girl's mother.
"It was just an ordinary ambulance. Only when they put her in the car, they offered her to wear a mask," recalled the neighbour.
She went to the clinic with a fever. "I passed the examination quickly, X-rays. They said there was nothing to be afraid of. We have no coronavirus. They see us quickly, in an organised manner, everyone wears masks and keeps a distance," said a resident of Homel.
"Nothing is happening! We're doing well!"
The residents of another multi-storey building in Homel inform that they had their entrances disinfected yesterday. An ambulance took a young girl with suspected coronavirus. She flew to London earlier.
Correspondents met a woman at the entrance. She denied the information about a young girl taken from there and disinfection.
"None of this is true. Everything is fine here," said the resident in an angry manner. A few minutes later, an ambulance arrived at the entrance, and its employees were wearing protective outwear.
An elderly woman and man were taken by this ambulance and taken to an infectious diseases hospital.
The journalists failed to get a comment either from the press service of the Ministry of Health or from the Gomel regional executive committee.